The stock air box came off the Tie Fighter (A.K.A. Dar/th) and was replaced with the devilishly imperial looking Aira cold air intake from Storm Trooper Lance over at Airflow Innovations. While I usually have some imperial technicians work on the Tie Fighter I was assured that even someone with their head in the stars like me could do it. So here is my attempt and subsequent glory of an Aira intake install.
Why would someone want an Aira cold air intake system on their car? Well I really couldn't answer that but I can tell you why I did and it's ... well hell, look at it, it's a very particularly engineered piece of machinery that could only look so beautiful because it works so well.
Your car's engine needs air, along with gas and water and a host of other stuff we never think about. When the car gets better air flow, the engine gets more air and when it does that it goes faster and sounds meaner and responds quicker. A lot of car enthusiast believe that cone shaped filters are not as good as air boxes because the air box forces more air into the small opening but in reality that is exactly where it fails. Forcing air in, through restriction.... is restriction. It's not just about what air can make it in there, it's about the intake of that air taking as little power as possible. Try running with just your nose to breath through. Lance at Airflow Innovations has developed a product that allows little to no restriction AT ANY RPM. In fact the fat feels like it's breathing better at the higher rpm's than at idle. This is why it is shaped the way it is. Pretty col right?!
At first there are lot's of parts to deal with. I got the mac daddy set up because you know, that's how I roll, and there are bags with clamps, small filter looking things, bolts you name it. I think I saw one with a chicken in it but I don't know what happened to that bag.
I will now post instructions in case you want to do this to your Prius.
After reading the really decent install manual 17 times I got to it. First step is easy, disconnect all your tubes and unscrew 1 bolt on the body and one bolt on the neck of the stock intake. Pull.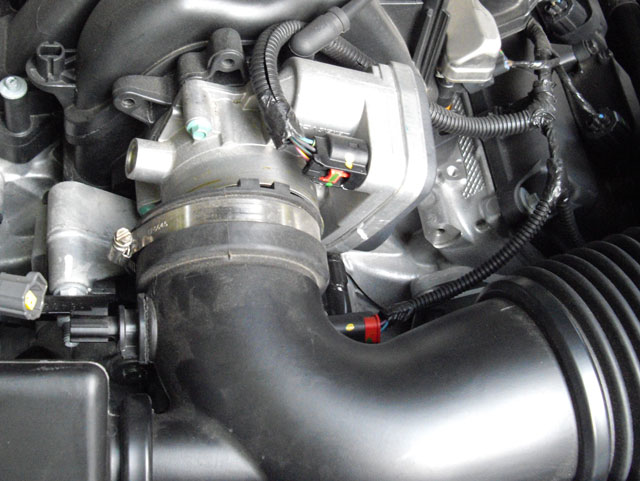 Step 2 is to locate the air sensor that is still inside the stock intake which is now on the floor of my space driveway, which looks remarkably like a driveway would in say, New Jersey. Anyway, it's not hard to find because it's blue and obvious.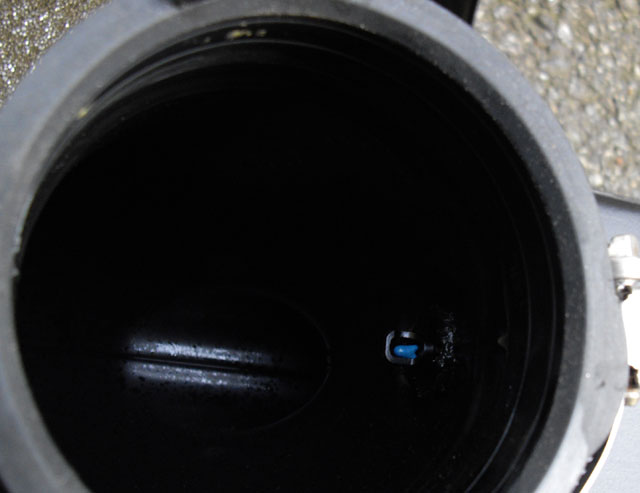 The Challenger housings that hold in the sensors are not nearly as annoying as the Charger ones that were pictured in the manual. 1 easy clip to get it unplugged. The housing you see above however did need some twisting and there is a slight cracking when you twist. It's not the sensor, but the lock tight stuff they smear on there. Don't squeeze with the pliers but get a decent grip enough to twist it. There is an arrow on the back to show you which direction. Check out the cool new sensor housing NOW!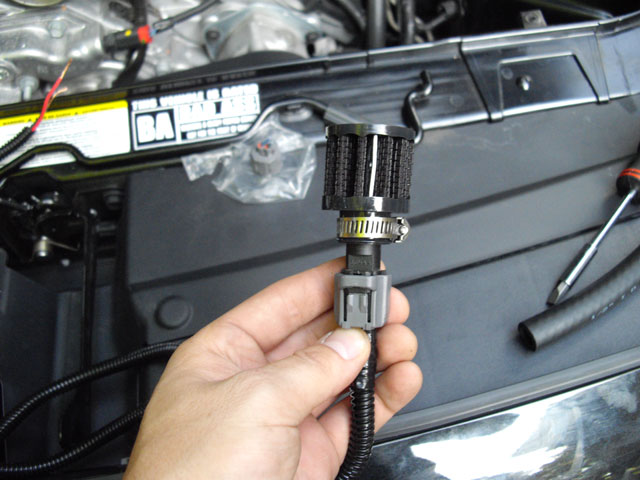 The intake tube also gets one of those little suckers. I think I like them as much as the intake itself. Very Vader-ish.
Wire up the extension so you have enough cable to put the sensor right smack in the middle of where the air comes into the car which is right under where the old stock filter was.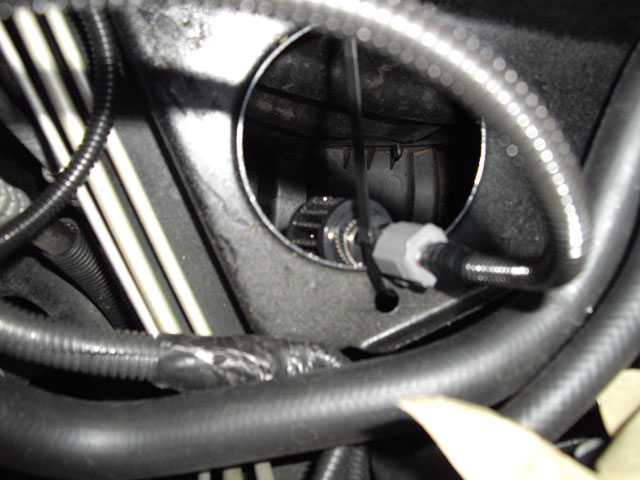 Of course I cleaned up the twist tie by trimming it and coiled the extra wire around the hole and did not block it with anything. Conveniently Dodge drilled a hole right there. Hmmm.
Here is the extra wire.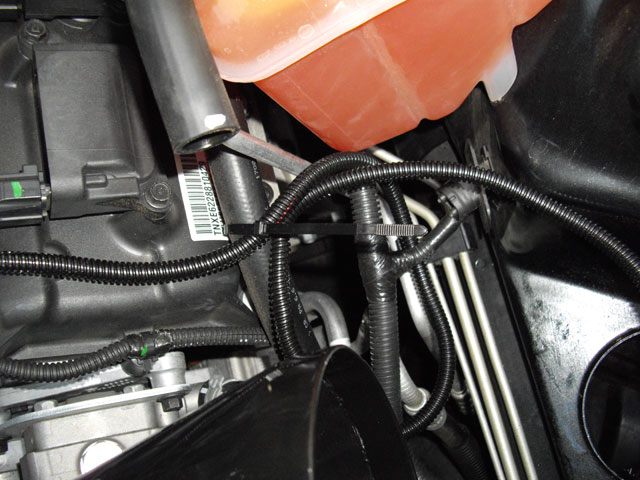 Keep that stuff away from all the fans and belts and other deadly moving things.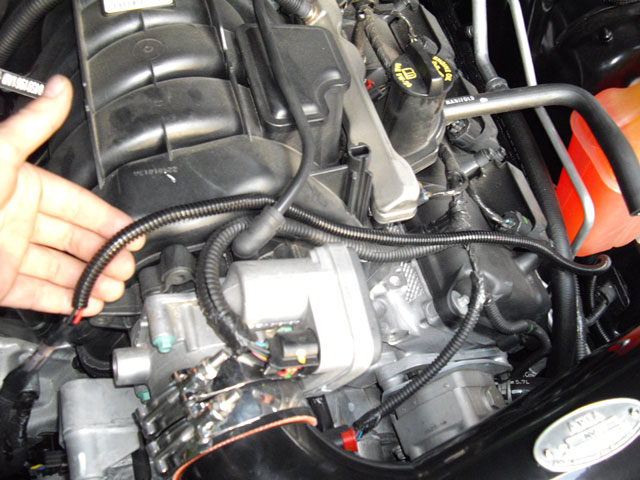 Like so, I guess. Haven't blown up yet.
Next you put the intake on and for this I found that putting the sleeve on the car first was ten times easier than putting it on the intake first. I put the sleeve on the car to where I wanted it then took the bolts completely out of the clamps and wrapped them around with zero pressure then had a neighbor kid hold the intake in place. Bolted right up. Trying it with the sleeve on the intake first ended up with two failed installs. Kept popping out. Sleeve on the car first, one time and you could feel it going on correctly, the force was right. Filter goes on the exact same way but with only one clamp and not tied down as hard. I installed the spring too, but you really don't need it.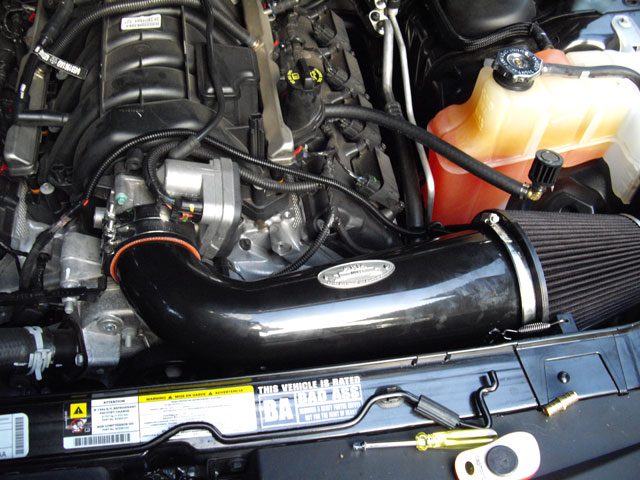 After reconnecting the car's battery and starting her up I got a dash light for the computer aided breaking system and the traction control. After a restart they did not reappear. Was probably the computers resetting since the battery was disconnected. I drove it a half hour after that and all is well. Better than well.
Here it is all done.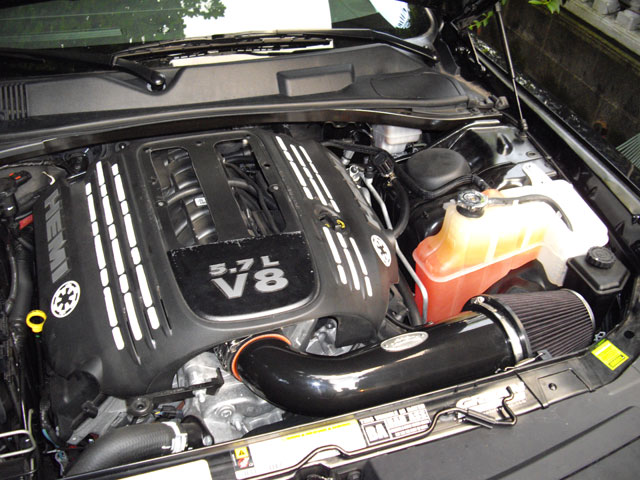 My advice? Know what you have and what you need (only extra part you need is a 10 mm socket that is extra long so that the bolt does not stop you from ratcheting it down) and just go with it. It's easy if you don't over think it.
Took her out for a drive and you could hear the think immediately. Sounds like a tiny burst of NOS or something. Whines but in a mechanical, healthy way. Also drones out some of that mechanical clatter you get while changing gears. that clutch disc or whatever loosens up when you disengage the clutch is loud as hell! I like it but I like the sound of the intake much better. Sounds powerful and more complete. I would also be lying if I didn't swear she was a bit livelier and extra peppy. Took a turn I take all day the same way I always do and got some wheel spin. I feel like less work is needed for more power. Not supercharger power of course but more like an even flow. Less chunk and more fluid arches to the rpm's when you come off the pedal. Did I mention how neat is sounds? I added my Catch Can with black braided hoses from Billet Tech as well.
Anyway, I love the new look and the knowledge that my engine is not only breathing better but not retaining that oil vapor that is really unnecessary. Oh and today on my catch can test run I got the Tie Fighter to reline in second and the Aira was SCREAMING! It was like I woke it up and it was pissed. Sounded great and shifted into 3rd so fast I thought someone else did it!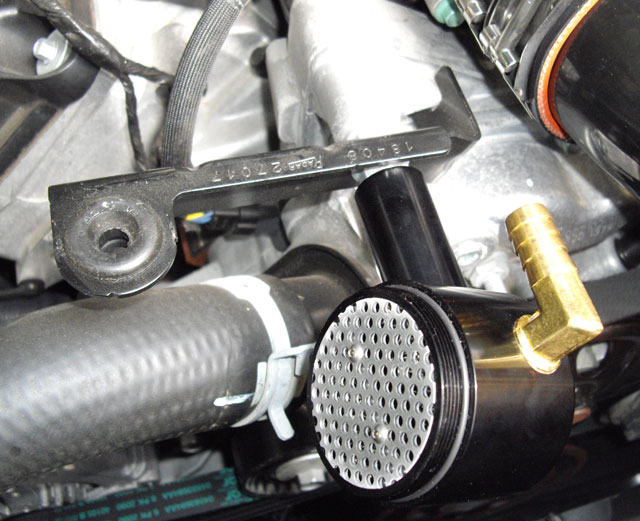 Setting up where the bolt should go, how far in. Oh I removed that black piece altogether. It's for the stock air filter system.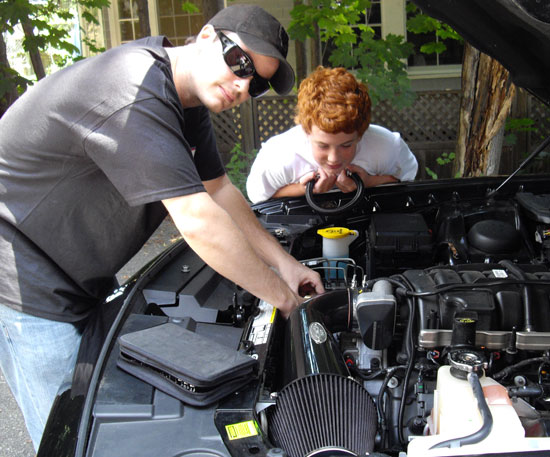 It helps to have a neighbor kid to help, and at least you can watch him turn into a mucle car head.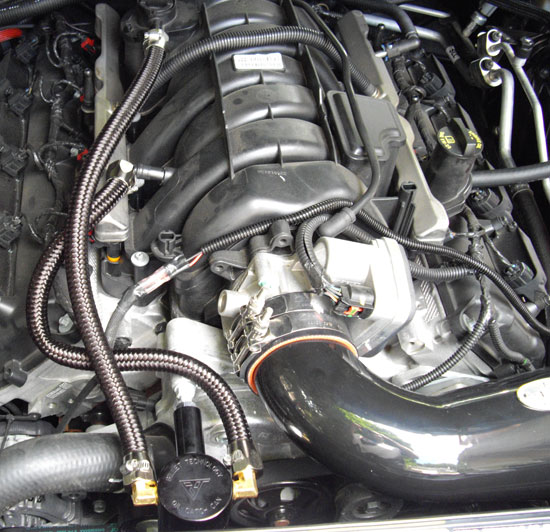 The Dark Side just got darker.... and healthier!
Go figure.